No algorithm has ever been able to write an article that could propel readers to
take action, ask question, demand answers
Only humans write such content
Join Pebble as we build a fair opportunity platform for 
Journalists & Writers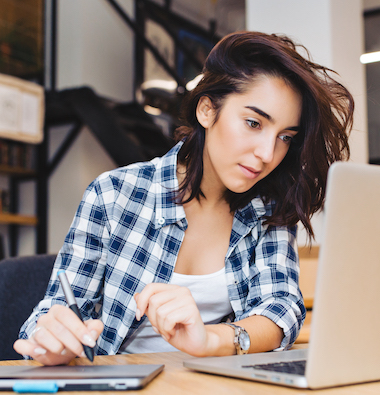 What do writers say about Pebble
During my engagement with Pebble, I found it to be thoroughly professional and transparent. Pebble has been taking up meaningful projects and to be associated with those as a journalist, one feels relevant and grateful.
Shailaja
< 1 yr with us
Though my association with the Pebble has been only for a few months, it already feels like a family. While they never cease to disappoint its employees in terms of work, Pebble stands as support throughout.
Nirtika
< 1 yr with us
Pebble is a role model for other companies in adhering to time management properly. When work-related problems arise, it is best for its coordinator to intervene in a timely manner and resolve them.
Kumaran
1+ yr with us
As a newcomer to the media domain, all my apprehensions and doubts were put to rest by the impartial, work-driven and welcoming environment of the team, especially the Pebble founder.
Fayezah
1+ yr with us
I was so grateful that I got an opportunity to work with Pebble. It was a great pleasure and enlightened my professional journey. I have learnt a lot in terms of my content. I have worked for Entertainment beat, therefore it boosted my skill as an entertainment writer.
Azmi
<1 yr with us
मैं पैबल के साथ पिछले एक साल से अधिक समय से कॉपी एडिटर के तौर पर काम कर रहा हूँ। पैबल के साथ काम करने का अनुभव अब तक बहुत अच्छा रहा है।
Bishwajit
1+ yr with us
I have had the pleasure of working with Pebble since 2018. Pebble is known for commitment to excellence, creativity and out-of-the-box approach has set a new benchmark in providing results-oriented campaigns.
Neeraj
2+ yr with us
The founder of the company Mr. Anil Kumar is extremely encouraging and supportive. The work culture at Pebble is good and one gets to work on a variety of projects/topics. The pay is at par with the industry standards and the company pays on time.
Toprit
<1 yr with us
पैबल एक बेहतरीन प्लेटफॉर्म है। मुझे इस संस्थान से जुड़ कर काम करने का एक शानदार अवसर प्राप्त हुआ। भविष्य में संस्थान के साथ पूरी निष्ठा से जुड़े रहना चाहता हूं।
योगेश
2+ yr with us
Pebble is a platform where you can get opportunities to work on many different projects which is not possible in many organization and this sets this apart from the rest in this industry. Management is very transparent in terms of payments and it never gets delayed and creates a very friendly and inclusive atmosphere.
Anuradha Jain
6 months
FAQs
Frequently Asked Questions